WHMIS 2015 Basic Course
The Workplace Hazardous Materials Information System 1988 (WHMIS), is a Canada-wide system designed to protect workers by giving them critical information about controlled products and hazardous materials in their workplaces. With the adoption of GHS (Globally Harmonized System) WHMIS has changed to WHMIS 2015 during the transition period. Course content includes WHMIS background and legislation, proper use of labeling and product warning identifiers, description and interpretation of Safety Data Sheets (SDS) / Material Safety Data Sheets (MSDS), worker training requirements and supplier/employer/worker responsibilities.
Under WHMIS 2015, workers have the right to receive information about each controlled product they use – its identity, hazards and what safety precautions are needed to protect themselves. The goal of GHS and WHMIS 2015 is to reduce injury and disease by communicating specific health and safety information about controlled products, so that the information can be used to reduce exposure to hazardous materials.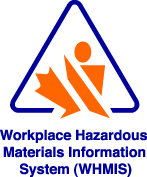 WHMIS 2015 Basic Course Outline:
Legal responsibilities
Introduction to the regulations and changes with GHS
Classification of Hazardous Materials and associated risks
Safety Data Sheets / Material Safety Data Sheets
Pictograms
Supplier labels
Workplace labels
Emergency procedures
Personal Protective Equipment
WHMIS quiz
Our WHMIS 2015 Basic Course involves interactive lecture material, video, practical exercises, and quiz.
WHMIS 2015 training takes a common sense approach to workplace health and safety.